Streamer's Technologies Have Attracted Interest of The Central Asian Power Engineers
16.11.2018
In 2018, Streamer launched active developments for the power equipment market in the Central Asian region. At the 13th International Show, UzEnergyExpo, held in Tashkent from Oct. 31 - Nov. 2, the Company introduced new lightning protection technologies to potential partners from Central Asia.
UzEnergyExpo is one of the largest regional industry shows. Each year in late October – early November, leading companies from Uzbekistan, Turkey and Russian energy markets come to the UzExpoCentre National Exhibition Center to share their experiences, set and expand business contacts. This year Streamer took part in this event for the first time. The company's booth comprised samples of SAi10z, RMKE-10, SAdM35z LLPDs; visitors could also see the whole range of company products. The guests were shown videos with a detailed outlay of the multi-chamber system technology being the basis of an innovative means of lightning protection for high-voltage power lines - multi-chamber LLPDs. Further, in Tashkent Streamer introduced TRANSEC online transformer drying systems, and one more technological innovation - Smart Transition Point. This kind of equipment has been intended for convenient transition of the overhead power line into cable line when constructing and reconstructing 35-110 kV power lines. This Smart Transition Point construction features make it possible to install these poles in any hard-to-reach location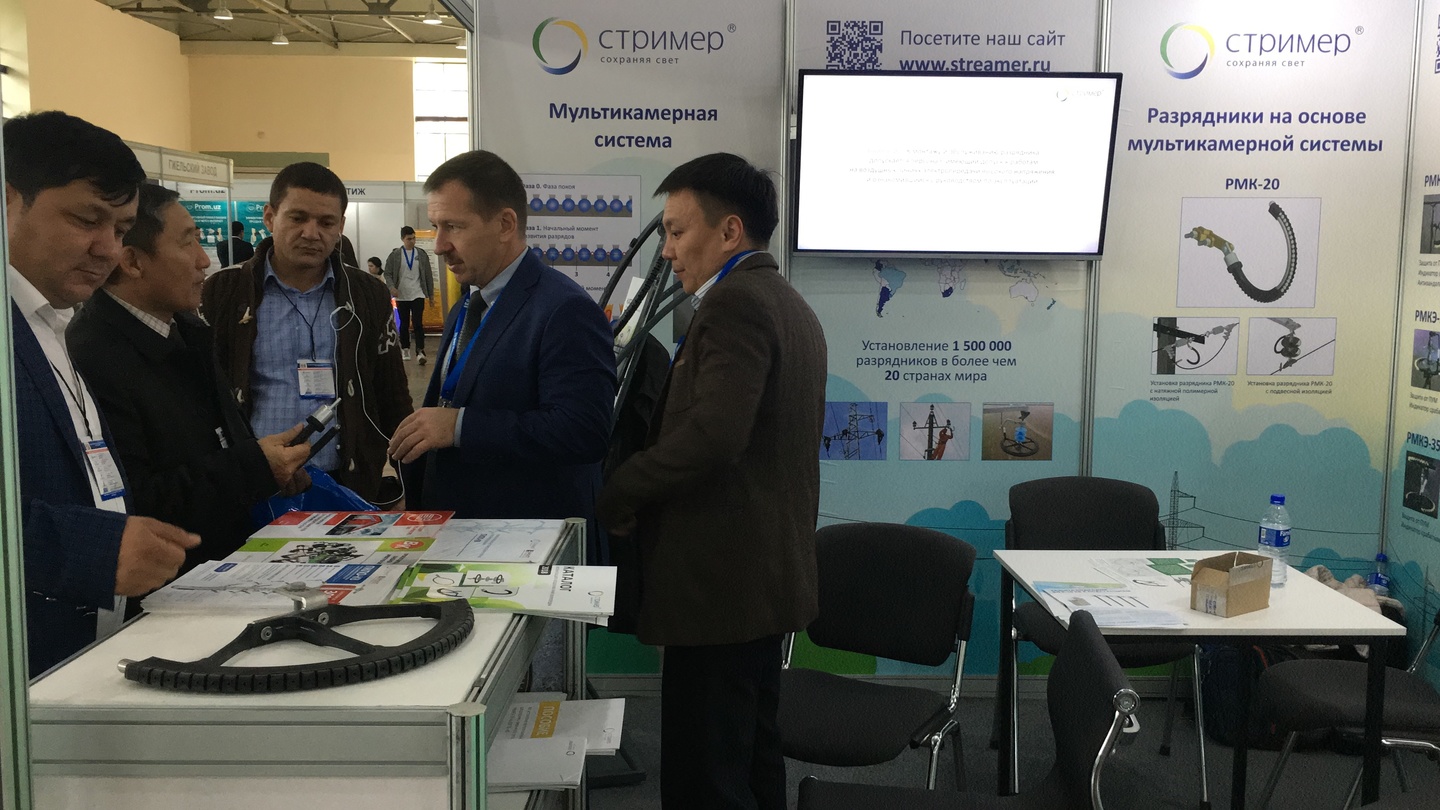 Streamer products and technologies were very popular among show visitors, especially among representatives of power grid companies, oil and gas companies, mining and processing plants, design institutes, students of specialized universities. "Without exaggeration, today the energy systems of a number of Central Asian countries are in a very poor state: the equipment left over from the Soviet times is almost completely worn out and requires immediate repair or replacement. Regions develop programs for updating energy networks, and innovative equipment developed by Streamer scientists can be effectively applied within the 21st century energy systems in Central Asia", Vitaly Melnikov, Streamer Regional Director, says.
As assessed by Streamer Marketing Manager Elena Kudinova, who also represented the Company at UzEnergyExpo, the exhibition was a success: "We have established a large number of new contacts, and, possibly, found potential partners for a further mutually beneficial and effective cooperation". She also highly appreciated Gairat Daniyarov, Streamer partner-company representative in Uzbekistan, who assisted Streamer at the show.
"The exhibition was successful, the great advantage is that we were able to assess the actual state of Central Asia power systems and identify the priority challenges of local energy. We were not lucky with the weather – we had expected sunny and warm weather, but this year winter came to Tashkent too early," Vitaly Melnikov shared his impressions.