Streamer Line Lightning Protection Devices Installed in Brazil
28.06.2019
Streamer installed line lightning protective devices for Celeste Distribuição S.A. with the support of FURB Universidade De Blumenau in the municipality of Blumenau in Brazil.
The line lightning protective devices were installed on the Morro do Cachorro mountain, which is one of the highest points in this area. The mountain is surrounded by impassable jungle.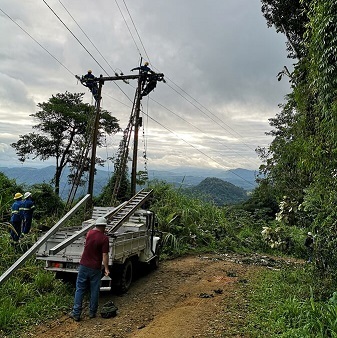 The length of the lines equipped with our protective devices is 4 km. Streamer already worked at this facility in Brazil a few years ago in 2015. This time it was decided to replace the protective devices on the transmission towers closest to the communication towers with a more advanced model that can withstand more operations. This Brazilian region is characterized with high thunderstorm intensities and in the immediate vicinity of these lightning dischargers the protective devices clearly come into action much more often than average.
The line feeds a set of communication towers on top of the mountain.
This is the highest mountain in the area, so every electrified cloud flying past discharges into one of the television towers. With each such discharge an overvoltage is induced on the line which easily covers the relatively weak isolation of the 13.8 kV line, creates a short circuit and disables the equipment,' explains Mikhail Zhitenev, Streamer Product Manager.

Speaking about the technical features of the installation, Mikhail noted that the installation was easy and quick, because the team was well prepared and the lightning protective devices had been assembled in advance at the warehouse. The complete job was carried out within a period of two days, 10 people took part in it. However the local weather-related calamities didn`t fail to come into picture. On the way to Morro do Cachorro mountain it turned out that the flood washed out the road.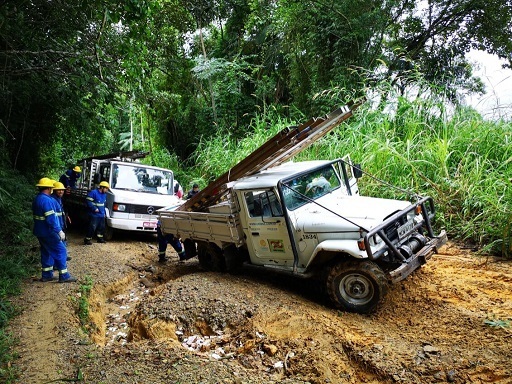 'The road to the top was washed away and along the way a rally section of the track was awaited us. Once we even had to pull the car out of a very deep pit. But this did not affect the overall impression of the installation. It`s excellent! Power engineers are satisfied with the operating experience and have already offered FURB University a project of including our products in the specifications of Celeste Distribuição S.A.,' concluded Mikhail Zhitenev.