STREAMER Lightning Strike Counter (LSC) is meant to count the number of lightning strikes based on the current flowing in a conductor . The 250A high sensitivity Surge Counter can be installed easily on the ground leads even on existing installations thanks to its split core transformer.
The counter display can be mounted top, bottom, back, or strapped up to 20 m from the measurement point. The device complies to the IEC 62561. Thanks to its IP67, housing, rugged materials and self power, the LSC is suitable for outdoor and hazardous atmospheres.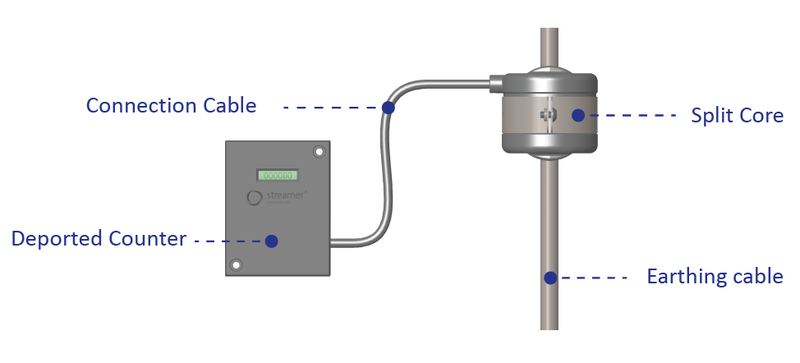 Key features
High measurement performance: from 250A minimum to 100kA detection
Outdoor device : IP67
No maintenance : self powered device, no battery
Easy cable installation : up to 3 split cores current transformers, 5 to 25mm cable diameter
Easy counter installation : bottom, top, back or strap mounting. Up to 20m cable length.
Durable device : glass window, stainless steel & HDPE plastic
Split core characteristics

Two versions of the split core exist, up to 16mm (as standard) or up to 20 mm (on request). The 16mm split core is suitable for ground lead with diameters from 5 to 26 mm. 250A minimum detection is achieved for diameters from 5 to 16mm. For diameters or airgaps above, the table below provides minimum detection current.



| | | | | | | | |
| --- | --- | --- | --- | --- | --- | --- | --- |
| Air gap, mm | 0 | 2 | 4 | 6 | 10 | 15 | 20 |
| Diameter of rod/conductor, mm | <16 | 16.1 | 16.5 | 17.1 | 18.8 | 21.9 | 25.6 |
Minimum discharge current, 8/20us, A
Conductor length

3 m

250

350

450

500

600

650

700

10 m

250

370

500

600

700

800

900

20 m

350

400

600

700

900

1000

1000

Scope of Application

Installation

Technical characteristics
| | |
| --- | --- |
| REFERENCE | VALUE |
| EARTHING CONDUCTOR DIAMETER RANGE, mm | 5 to 16 | 35 to 150mm² |
| EARTHING RIBBON, MAX, mm x mm | 20 mm x 60 mm |
| MAXIMUM DISTANCE BETWEEN DISPLAY AND SENSOR | 20 m |
| INSTALLATION ON THE CONDUCTOR | in parallel – clamped |
| MINIMUM DISCHARGE PEAK CURRENT DETECTED - 8/20us waveform - IEC 62561-6 | 250 (500*) A |
| MAXIMUM DISCHARGE PEAK CURRENT DETECTED - 10/350us waveform - IEC 62561-6 | 100 kA |
| MINIMUM NUMBER STROKE REGISTRATION RATE | >= 2 counts/sec. |
| MINIMUM TIME BETWEEN 2 STROKE FOR REGISTRATION, RESPONSE TIME | 20ms |
| VOLTAGE DROP ON TERMINALS | < 1 V |
| LONG DURATION CURRENT WITHSTAND CAPABILITY | 2500A for 4ms |
| HIGH CURRENT WITHSTAND CAPABILITY | 100 kA |
| FREQUENCY, Hz | 47 to 63 |
| NUMBER OF DIGITS ON DISPLAY | 6 |
| TYPE OF DISPLAY | MECHANICAL |
| BATTERY POWER SUPPLY | NO |
| SELF POWERED | YES |
| RESET COUNTER METHOD | NO |
| MEMORY ROM - Storage of last counter value | NO |
| WEIGHT, kg | 1Kg |
ENVIRONMENTAL CONSTRAINTS
| | |
| --- | --- |
| TEMPERATURE - °C | Class C2: -40 to +70 |
| PROTECTION CLASS | IP67, NEMA 4X |
| TEMPERATURE CHANGE RATE - °C/min | Class C2: 1,0 |
| RELATIVE HUMIDITY - % | Class C2: 10 to 100 |
| MAX ABSOLUTE HUMIDITY - g/m3 | Class C2: 35 |
| MAX ALTITUDE - m | 2000 |
| ATMOSPHERIC PRESSURE - kPa | 70 to 106 |
| STANDARDS/TEST | IEC 62561-6:2018 |
| LABEL INCLUDES | Harware version number, serial number, manufacturing batch |
| UV STABILIZED HOUSING | YES |
| STAINLESS METAL | YES |
| TYPE OF SURGE COUNTER as per IEC 62561-6:2018 | Type 1 and Type 2; outdoor |
Current transformers device
| | |
| --- | --- |
| The 3 current transformers SC250 is in all point similar to the 1 current transformer SC250 in terms of detection levels, electrical characteristics, withstand, performance and dimensions | |


SADC20z mounted with SC250 with 3 current transformers

The device has been designed to monitor 3 earthing point simultaneously, that could include for example 3 x LLPD, as the LLPD have not be design to have specific groundings OR as the grounding path might not be unique.

The counter will totalize the surges on one unique counter, therefore it will not be possible to distinguish which location (current transformer) the surge originated from.

The usage of a 3 current transformers is justified to reduce time and cost of installation and ensure proper detection